Bearded Collie - Miss Toni
Introducing
Multi BISS Australian Supreme Champion / NZ Champion Llandtree Ftstpsofa Angl at Lyntree (Imp Aust)
(Footsteps of an Angel)
"Miss Toni"
DOB: 29th August 2006
Pedigree: See Dogzonline Profile at http://www.dogzonline.com.au/breeds/profile.asp?dog=27284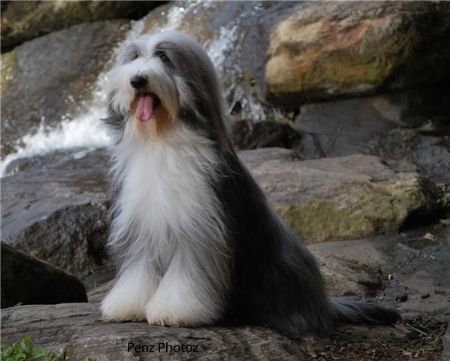 A Beardie With BOUNCE AND A WHOLE LOT OF ATTITUDE.
Miss Toni is very much the "Wild Child" of this litter.
If you want to see more photos of this girl check out her slide show
Not to be outdone by BJ she also has had a fantastic career to date but always seems to be in his shadow.
I just adore this girl and she is my best mate - we have BIG Plans for her in 2012.
Royal Challenge winner (Toowoomba) 2007 and Runner Up Best Of Breed 2008 (to her Mum) & in 2009 Challenge Bitch & Runner up to BOB at Canberra Royal - Challenge Bitch and Ru to Best of Breed (to BJ) Brisbane Royal (Ekka).
Toni is a Multi Best Exhibit In Group winner as well and has a Runner Up to Best in Show (All Breeds)
BEST IN SHOW SPECIALITY under Mrs Anne Ingram (Ireland) at just 3 years of age
and BEST IN SHOW SPECIALITY under Mr M Adler (Argentina) in 2010
Miss Toni completes 2009 as the #2 Bearded Collie for Australia - only behind her brother BJ (who she was catching fast)
As a smaller breed numerically we do not often get overseas Breed Specialist Judges but in 2009 we were lucky to have Mrs Jackie James from the UK and her critique is as follows:
GrCh Llandtree Ftstposfa Angl. Really liked this one who is so very well balanced with a good head and nice length of body. Unforunately, another one that was carring a little extra weight wich tended to spoil her topline.
2011 was a fantastic year for Toni. Despite limited Showing she managed to achieve
1 Runner Up to Best in Show (All Breeds), 5 Best in Groups and 6 Runner Up to Best in Groups but 2 of those at Australia's Biggest Shows namely Spring Fair with a working dog entry of 360 and Sunbury with 297.
She was also Challenge Bitch & Runner Up to Best of Breed (BJ) at Sydney Royal and Reserve Challenge/Aust Bred in Show at the BCC Speciality in Victoria.
Toni also won the Most Successful Bearded Collie EXHIBIT over the 4 Sunbury weekend Shows.
Toni's Critique from BCC of Vic Show - Judge Mrs Erica Bakker van de Woestijne
"Attractive Lively bitch of nice type and proportions. Nice Head, noseline not quite straight. Good pigmentation. Very well constructed body and good movement. Best Australian Bred and RCC."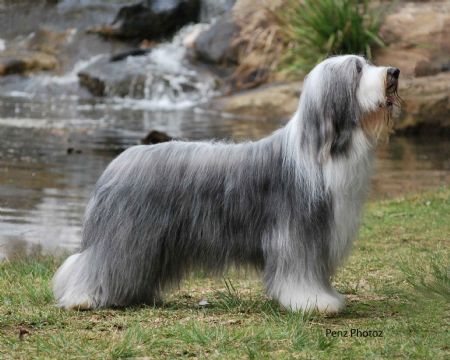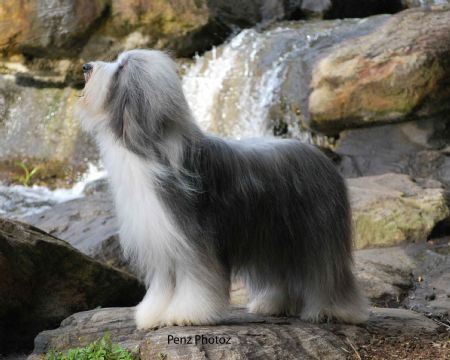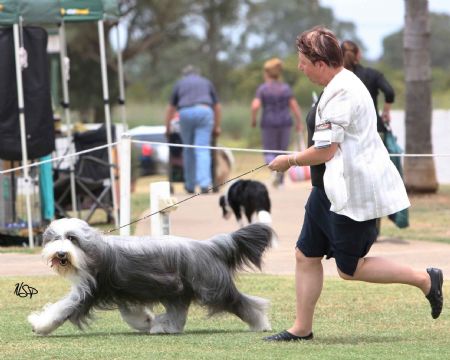 Can't you just see the naughty look in Miss Toni's eyes. Anyone that thinks she is an "Angl" is sadly mistaken.
Thanks to Natasha from Nat Snap Pix for the great photo.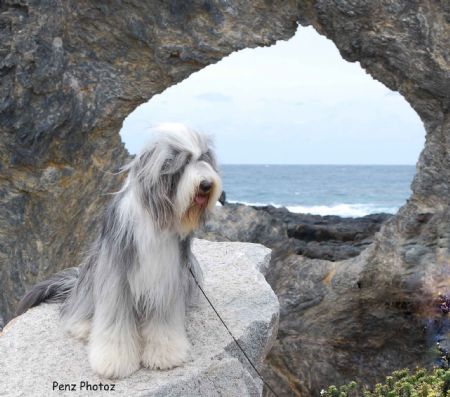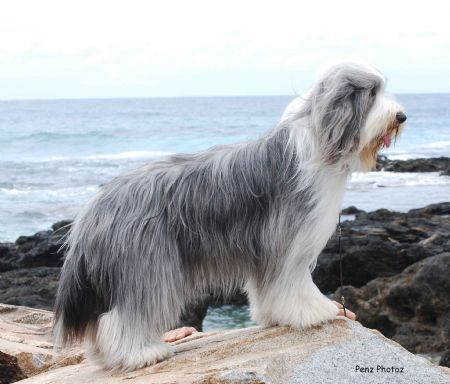 Miss Toni had her first experience in Junior Handlers with Rhiannon Anderson - well done to you both.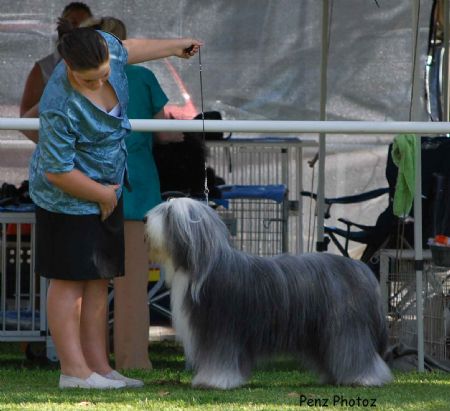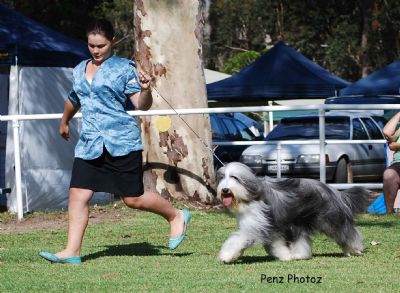 Miss Toni was also entered in her Herding Instinct Test and PASSED - Go Toni see pretty and clever to boot.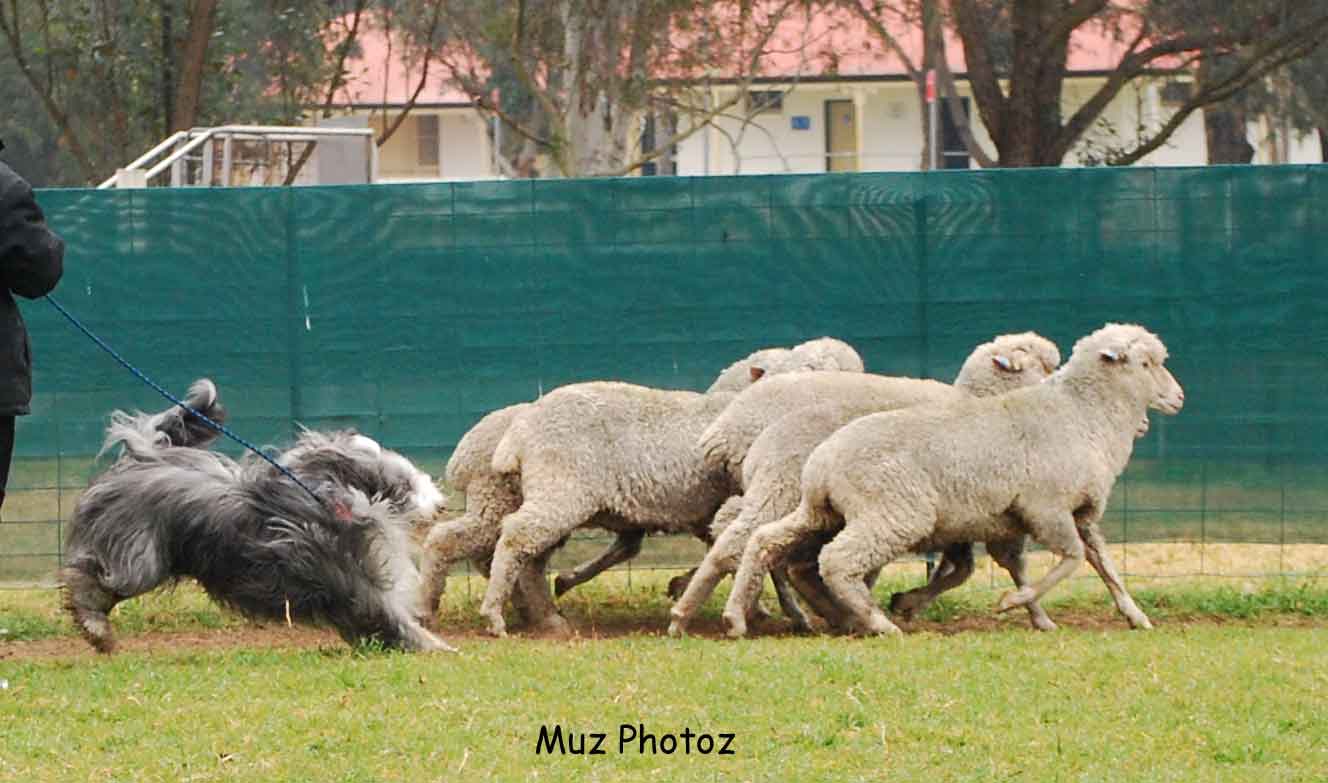 Because of the "BITCH" line—Toni is not quite so easy to live with but I guess with a great grandmother like Charlie and a Mother like Koopa I should not have expected anything less. The fact that she is spoiled rotten does NOT have a bearing on it.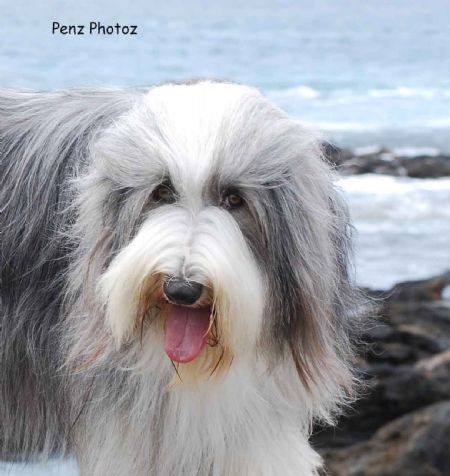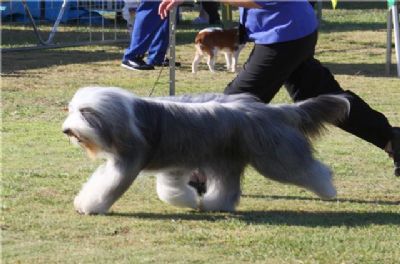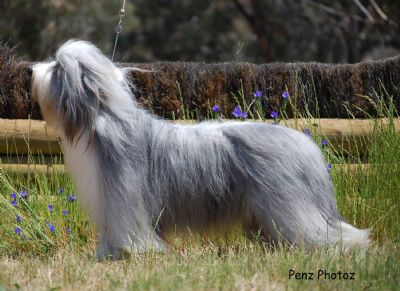 (Photo above: John Stanfield)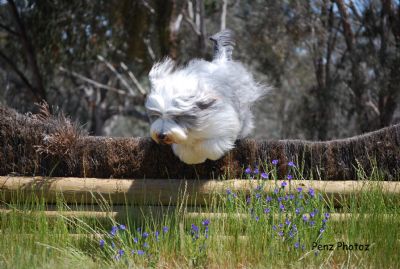 "I'm really a horse Mum - I can jump like them eh!"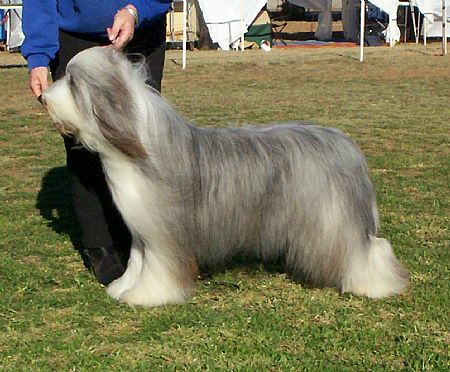 (Photo above: Muz)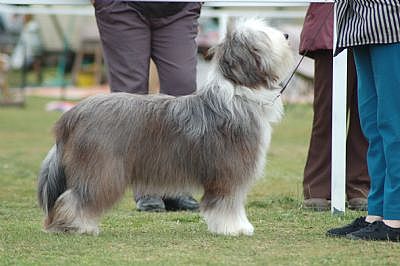 (the photo's above and below both by Melanie Buckley @ 15 months)
A Beardie with BOUNCE & LOTS OF ATTITUDE.