In Memory of Bearded Collie - Koopa
Introducing
NZ / Australian Grand Champion Llanddona Cinamon Twist (Imp NZ)
"KOOPA"
Hips; 0/0 Elbows; 0/0
30th May 1999 - 24th August 2015
Very sadly missed
(See also Koopa's profile with pedigree @ http://www.dogzonline.com.au/breeds/profile.asp?dog=8780 )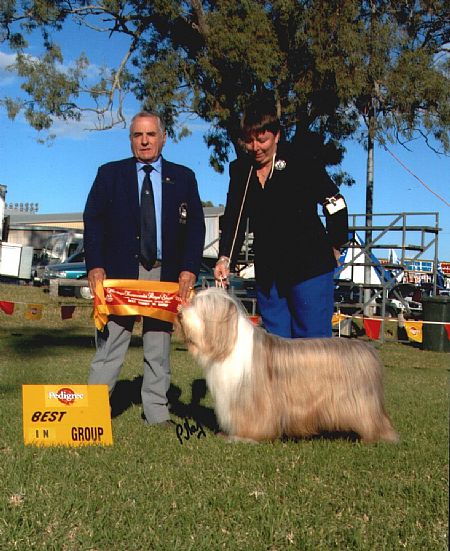 Photo: Paul May - Mayfoto
Koopa has proved herself in no uncertain terms as a Show Girl and a Brood Bitch (despite having only 1 litter of 2 puppies)

Multi BIS All Breeds, Semi Speciality and BIS Speciality winner (Including BIG & RUBIG Royal wins) BIS wins in 2 states and BIG wins in 4 states.

I would like to thank all the Specialist Judges who have awarded her so highly - afterall these are the judges we particularly want to impress.
Mr J Black (Vic) - RUBIG, Mrs L Black (Vic) BOB split Judging for Group RUBIG, Mrs L Buckley (ACT) - BIS, Mr G Kerr (Qld) - RUBIS, Mr R Stoate (Vic) - BOB, Mrs C Stoate (Vic) - BOB. Mrs J Richland (USA) BOB & RUBOB.
&

BOB Sunbury (49 breed entries) under breed specialist Mr I Copus (Can ex UK) His Critique:
My Best of Breed female is everything I look for in a Beardie. A wonderful head and eye, giving that soft melting expression that only the Beardie possesses. She simply stood out in all departments: she is well balanced, in great condition and she had that effortless free flowing movement so essential in a Beardie; she certainly completed a perfect picture on the day
My thanks to all the Australian & Overseas judges that have awarded this girl so highly.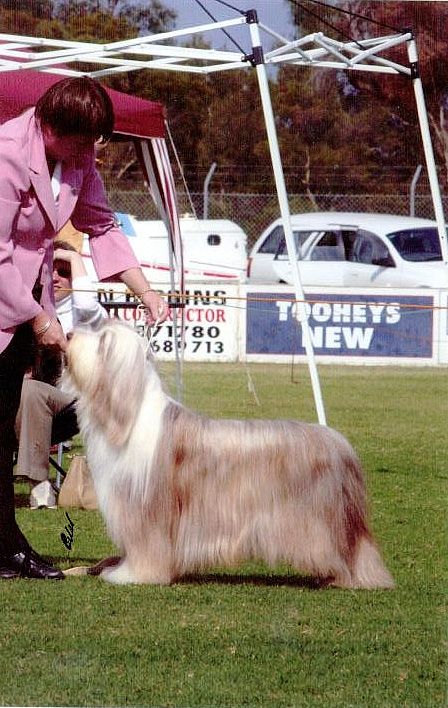 Photo: B Killworth - Cabal
This lovely old girl is now nearly 10 and still having fun in the Veterans Sweepstakes. While not carrying the coat she used to she is still looking lovely. She won the Showdogs Australia competition for 2008 for the Best Veteran in Australia and is currently leading the 2009 competition. To show she can still strut her stuff a photo taken on 21/2/09 Thanks to John Stanfield.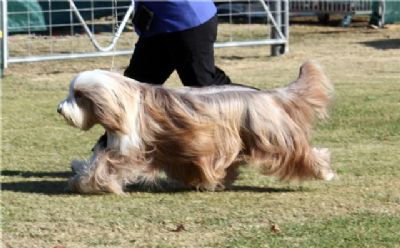 And also to show that you CAN teach an old dog new tricks we took Koopa to a herding trial in July 09 at the ripe old age of 10 and she PASSED her Herding Instinct Test.